A freshly brewed, smooth cup of coffee is all we need sometimes. And when it comes to running office space smoothly, a coffee machine is a must!
Some claim that having the best office coffee machine is the most crucial aspect of a happy and productive workplace; employees will feel better and work harder if they have a warm beverage on their desk.
Not only that but going for a drink run is a great way to take a break from your computer and do some serious thinking – depending on your profession, this time may be beneficial. However, with so many coffee machines on the market, both personal ones and massive lumbering monoliths built to quench large crowds, it can be difficult to decide which is best for your company.
What to Consider while Buying a Coffee Machine For Office?
With a plethora of coffee machines available in the market, the decision of choosing the best coffee machine keeps getting difficult. But you can select which machine aligns with your needs based on the variety of features that machines have to offer. Once you have determined the required features, it is time to fix a budget for it. From lower range to higher range, the list of coffee machines in the market never ends.
If you're also looking for the perfect coffee machine for your workplace, Kaapi Solutions has curated the perfect list for you.
Economical Range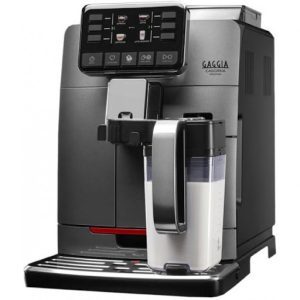 The Gaggia Cadorna Prestige Milk allows you to create milk-based coffee drinks with the touch of a button. With Gaggia's unique bean-to-cup coffee machine, you can get the ultimate barista experience. Ristretto, espresso, espresso lungo, coffee, americano, cappuccino, café au lait, latte macchiato, frothed milk, hot water for tea, hot cocoa, or infusions are among the ten pre-programmed beverages available on the machine.
You may experiment with each beverage to create something you enjoy, and if you're a big lover of milk drinks, you'll be eager to try Gaggia's groundbreaking Cappincup System, which takes home brewing to a whole new level. One can make a perfectly layered latte macchiato or cappuccino with just one touch, saving time and effort. With so many amazing features, Cardona stands out as one of the most suited coffee machines for workplaces.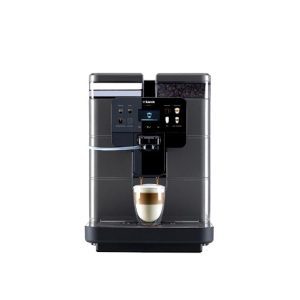 Whatever feature you want, you name it, and Saeco serves. A striking design contains both professional and functional elements. A capacitive interface with photo-realistic pictures and an iconographic display simplifies beverage selection while also giving the machine a futuristic look.
High-tech appearance with high performance. All of this and more are found in Royal. And it looks great in any office, from the most formal to the most casual. Royal is an incredible Saeco classic in the OCS market, well-liked all over the world, but with a new, distinct identity.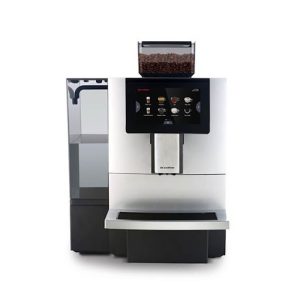 Dr Coffee's F11 is the perfect coffee machine for any small or medium-sized business. This countertop coffee machine will give you a delightful experience and a fantastic cup of coffee every day, thanks to its compact design, ceramic grinder, and dual-mode brewing mechanism.
F11 produces high-quality, rich-tasting coffee that easily competes with traditional bar machines often seen in coffee places. These machines complement several settings, including small workspaces, meeting rooms, and even at home on kitchen worktops, thanks to their compact size and stylish appearance.
Higher Range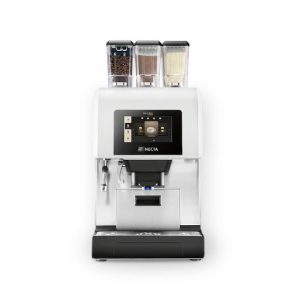 Kalea Plus is a high-quality drink that anyone can make with only a touch. Kalea Plus combines cutting-edge technology with the history, flavor, and culture of Italian espresso. Even the most demanding customers will be satisfied by the high throughput and quickness. Kalea Plus allows you to create your personalized coffee menu: a one-of-a-kind experience filled with enraptures, sip-after-sip.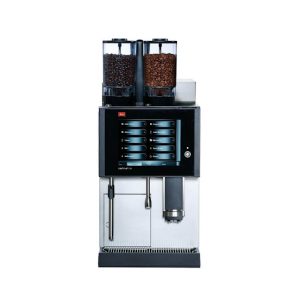 Melitta Cafina's fully automatic coffee machine CT8 satisfies the highest requirement in terms of performance and efficiency of use. With a simple tap on the extra-large touchscreen display, customer-specific coffee, milk, and chocolate combinations can be served instantly and reliably in excellent quality. The high hourly capacity of up to 250 cups enables quick and efficient order processing – even during peak times – or fast self-service pouring.
Depending on how many people work in your office, you may not require a large coffee machine. If several employees work from home or only come in once in a while, you may find that a massive coffee machine isn't used as frequently as you'd think.
So, it is very essential to buy a machine that matches your needs and requirements. We hope this curated list of Best Coffee Machines for Office will make the choice easier for you!