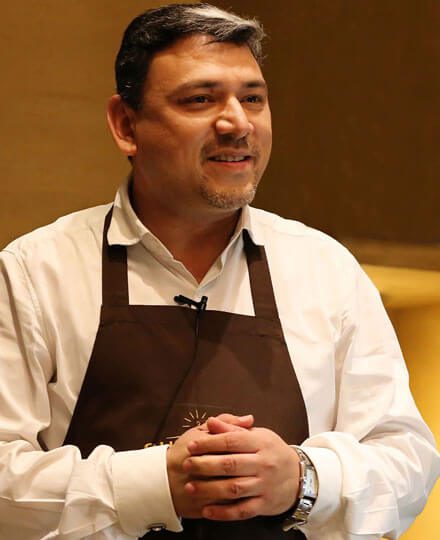 Mr. Vikram Khurana
(CEO & Coffee Consultant)
Certified Arabica Q Grader and an internationally acclaimed personality, Mr. Vikram Khurana is the most celebrated face of the Indian Coffee Community. With abundance of knowledge, the founder and Chief Executive Officer of Kaapi Solutions, Mr. Khurana has changed the coffee culture in India for the better.
His contributions towards the industry are noteworthy, being a major force in the growth of Italian coffee culture in India, he has paved way to the increase in number of the finest cafés in the country.
A prodigy in the truest of sense, Mr. Khurana was the first and only Indian to secure a silver medal in the World Barista Championship 2002, competing with fellow baristas from 27 other countries. Being the second-youngest participant with only 8 months of experience didn't stop him from mesmerizing the patrons with his talent.
His enthusiasm and impeccable skill were apparent to one and all. Since then, there has been no turning back and Mr. Khurana has time and again proved to be the extraordinaire, coffee industry of India can't do without.
Mr. Vikram Khurana is modernizing the coffee sector in India It is irrefutable that Mr. Khurana is serving as a philosopher and a companion to the coffee sector in the country, providing his profound knowledge and insights to the finest cafés and hotels in the business who sought his consultation.
Being aware that coffee is not just another beverage, it is an experience. He feels that for the perfect cup of coffee, which tastes like salvation in every sip, requires more than just specialized equipment, a huge degree of patience and skill. Hence, with Kaapi Solutions, they provide training to aspiring baristas to polish their skills to take forward the ethos of Kaapi Mr. Vikram Khurana has set.
During his entrepreneurial journey, Mr. Vikram Khurana has earned some prestigious recognition like:
Certified Arabica Q Grader
National Jury Member of National Barista Championship since 2007
Visiting Faculty of 01-year P.G Diploma in Coffee Quality Management by Coffee Board of India
Eminent speaker at KAAPI Shastra Programme organised by Coffee Board of India
Founder, Member and Former CEO of KAAPI Machines India PVT. LTD.
Founder, Member and Director of Probat KAAPI India PVT. LTD