The magical transformation of green beans to ready-to-consume beans via coffee roasting is a magical evolution of coffee beans. Every coffee enthusiast must witness this transition once in their lifetime as in this stage, coffee beans inherit the physical and sensory characteristics it's known for, with infinite chemical reactions taking place.
For quality controls and determination, Sample Roasting takes place to segregate the coffee on the grounds of quality for an enhanced coffee experience.
Sample Roasting 101:
The unique craft of roasting a small batch of green beans to identify the characteristics and uncover any hidden defects prior to production is known as Sample roasting. It is a quick and cost-effective way of performing the appropriate screening of coffee beans.
The roaster's skills must be fully immersed in what they're doing by tweaking different variables – such as temperature and airflow – to reach its ideal position of roasted coffee before cupping. While some of the details differ for sample roastings at different locations, it's essential to follow the primary steps for coffee roasting throughout the supply chain – from the place of origination to coffee processing units.
Here, we have tried to amalgamate some pointers to highlight the importance of Sample Roasting in your Coffee Business:
1. Identify the Ideal Roast for your customer's taste
The results of the sample roasts can be varied as per the taste preferences of the consumer. Sample roasting with IKAWA roasters can help you with:
Better purchasing decisions as per your style and approach
Determine the roast degree for your preferred samples
Get varied roasts for different types of coffee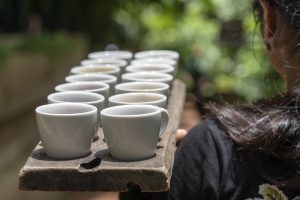 2. Remove the unidentified variables to enhance the coffee quality:
With the abundant amount of coffee traders, it gets extremely hard to have a fair cupping. A sample roast for every batch will help you identify the ideal coffee trader for your business after at least 5 to 6 sampling sessions.
Eliminate the quality degradation due to transport incompatibility.
Identify the ideal coffee trader and region

3. Faster decision-making:
Organize cupping with studious notes and get excited for the next purchase, only to find out that the coffee has already been sold out. Start roasting the samples internally to avoid such massacres and to hold your major cupping as the importers can take days, even weeks to provide you with the roasted samples.
4. Understand your coffee aroma:
Excellent cupping score is a part of sample roasting. Your customers must be impressed with your knowledge about your own coffee as it will result in high retention rates.
Identify the moisture content and water activity of your coffee.
Explore the flavors potential and approach for optimized production of your selected coffee.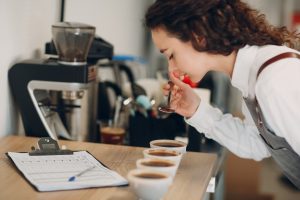 5. Enhanced knowledge and taste will yield profits:
Identify the suitable green coffee purchasing decisions for your business with the sample roasts for cost reduction and quality enhancement. Do not rush with your cuppings, and organize them according to your convenience.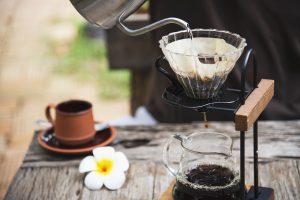 Conclusion:
Maximum coffee importers will provide large sample sizes. It leads to difficulty in quality control, roast consistency and flavour development as the true picture of the coffee variates. We hope that this information will make you realize the potential of in-house sample roasting – enhanced roasting samples, better cupping, swift decision-making, improved coffee knowledge, and yield additional profits with higher retention rates.