Coffee is not just a beverage, it is an energy drink that ignites your soul. It improves metabolism, and athletic performance, promotes positive heart health, and paves the way for effective weight management. One needs a deep understanding of the specialty coffee grinder in India to cherish the aroma of Indian Coffee Beans. The best coffee grinder along with the ideal coffee beans will deliver the coffee solution for all the coffeeholics. 
Get the best coffee grinders at Kaapi Solutions to brew the perfect cup of coffee. But first, you need to understand the different types of coffee bean grinders available in India, the ideal coffee roasting processes, and the best high-quality coffee beans for consumption in India. 
Types of Coffee Grinders
Manual Coffee Grinder 
A manual coffee grinder is a compact and versatile tool used for grinding coffee beans by hand. It typically consists of a handle attached to a burr mechanism or blade enclosed in a small container. This portable device allows coffee enthusiasts to enjoy freshly ground coffee anywhere without electricity. The CNC Processing Sharp Grinder ensures a longer lifespan. 
These are ideal for Cold Brew, French Press, Chemex, Drip Coffee, Pour-over, and Espresso. It helps to grind from coarse to fine texture. Timemore Chestnut C2 Grinder is the most suitable bean grinder for any household. 

Burr Grinder 
A burr coffee grinder is a highly remarkable grinder. These use two revolving abrasive surfaces known as burrs that offer superior grind consistency compared to blade grinders, resulting in better flavor extraction and more uniform particle size. The burrs are manufactured in different sizes for multiple grind sizes. It allows users to customize their coffee grind for specific brewing methods, from fine for espresso to coarse for French press. 
The top-selling burr grinder in India, Rocket Faustino offers exceptional grinding quality. It contains 50mm flat burr wheels making it the best home grinder in India.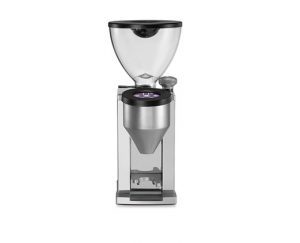 Electric Coffee Bean Grinder 
An electric coffee grinder is a convenient and efficient device used to grind coffee beans with the help of an electric motor. It simplifies the grinding process by automating the task, saving time and effort. It provides multiple grind sizes, allowing users to adjust according to their taste preferences. 
Electric coffee grinders are popular among coffee lovers who seek convenience without compromising on the quality of their coffee. The Mazzer ZM Grinder, along with the Baratza Encore is ruling the Indian Coffee Grinding market with their speed, versatility, and ease of use.