A Double Boiler Espresso Machine has two boilers with entirely different functions in a single espresso machine. One is the brew boiler, set at a lower temperature whereas the other is a steam boiler set at a much higher temperature. It helps the barista to have full control over the brewing process, hence delivering consistent extraction. 
The substantial rise in steam power makes it easier for the barista to prepare latte, cappuccino, and other espresso drinks. They also provide the ideal coffee machine components like appropriate PIDs, pressure gauges, rotary pumps, etc. providing the most suitable coffee beverages in the world. 
Pros of the Double Boiler Espresso Machine
The brew temperature and steam temperature can be varied from each other independently. This allows the barista to brew coffee without impacting the steam pressure for the desired blends.

Consistent coffee flavors over consecutive coffee shots as the temperatures are controlled manually.
The removable elements allow the machine to be cleaned easily. The portafilter allows a swift and quick transition for the next espresso shot.
Best Double Boiler Espresso Machine
Kaapi Solutions provides the best double boiler espresso machine, suitable for your cafes, restaurants, offices, etc. We have successfully partnered with esteemed clients like ITC, Taj, Barista, KrispyKreme, etc. Our highly commendable and best seller, Astoria Storm is the ideal double boiler coffee machine for your coffee shops. 
Astoria Storm is part of a rich and deep-rooted corporate culture with a profound sense of fine craftsmanship. It is the result of years of practice, determination and excellence of some fine coffee scientists and top-notch baristas. It provides extensive coffee components for all the baristas to deliver the ideal coffee experience. Shop Now!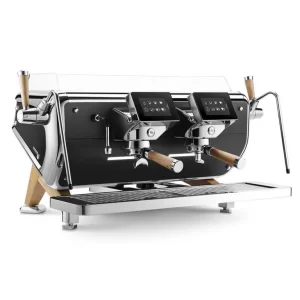 Kaapi Solutions provides an extensive array of double boiler Semi Automatic Coffee Machines. Our coffee experts examine the exact requirements of a barista/entrepreneur and suggest the most suitable espresso machine as per their prerequisites.
Click here to get in touch with our coffee experts and opt for the ideal Coffee Machine for your Coffee Business.