Setting up a coffee shop is not a cakewalk. Premium coffee machines must be equipped with exceptional baristas to embark the best aromatic coffee experience. The cup of joe must have a consistent flavor that satisfies the customer's taste preferences. A reliable and highly efficient coffee machine for shop can be the backbone of your coffee shop, providing you the ability to create a wide array of coffee beverages. 
Multiple Factors that determine the Perfect coffee machine for shop: 
Determine the appropriate demand for coffee on a daily basis and choose the coffee machine accordingly. The balance between speed and quality is essential, choose the most relevant coffee machine as per your requirements. 
Your coffee menu plays a significant role in determining the best coffee machine for you. Espresso based coffee drinks would require multiple group heads and steam wands. A high-end machine would be suitable for multiple espresso extractions simultaneously. 
An advanced espresso machine with manual control on temperature, pressure and other factors that contribute to the flavor and quality of coffee is essential. Advanced features like pre-infusion, enhances the overall coffee aroma, leading to a flavorful cup of coffee.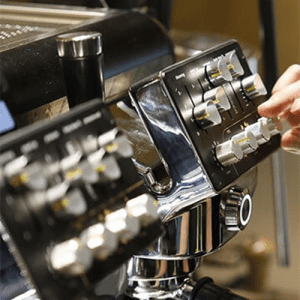 Opt for a machine with easy-to-clean components and descaling function for optimized longevity of the equipment without affecting the taste integrity of the coffee. 
A visually appealing machine like Astoria Hollywood can enhance the overall ambiance of your coffee shop, adding a touch of elegance and professionalism to the entire coffee arena.

Best Coffee Machine for Shop 
The cost associated with the best espresso machines might be higher than the budget but they will surely provide better returns in terms of customer satisfaction, consistent taste, profound aroma and top-notch quality coffee. Opt for the most significant machine as per your needs in terms of capacity, maintenance, quality and technology to serve the ideal coffee at your coffee shop. 
Kaapi Solutions provides end-to-end support to set up your dream coffee shop. We provide one stop solutions for all the coffee businesses to explode in the Indian Coffee Market. Drop a mail at [email protected] to get in touch with us and secure your ideal coffee machine for shop.