Italian coffee machines can be traced back to the early 20th century when several innovative producers and entrepreneurs began experimenting with ways to improve the traditional coffee-making method. One of the first significant developments in this area came in 1933 when Alfonso Bialetti introduced the Moka Express, a stovetop coffee maker that used pressure to force hot water through coffee grounds to produce a rich, flavorful brew.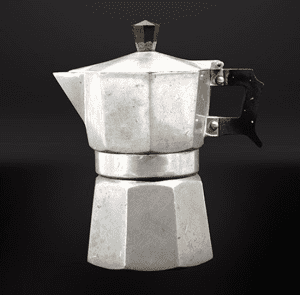 The first Italian coffee machines were invented in the early 20th century by Luigi Bezzera and Desiderio Pavoni. These initial machines were manual and used a lever to press hot water through the coffee grounds. These machines have changed over time with the development of semi-automated and fully automatic variants.
Over the next few decades, other Italian manufacturers began creating their versions of the Moka Express and other coffee machines, using various designs and technologies to refine and improve the brewing process. One of the most notable innovators were the Gaggia and Astoria. These developed several innovative machines that used high-pressure and other techniques to produce a more consistent and flavorful coffee.
GAGGIA
Today, one of the most prominent Italian coffee machine brand was once a small setup within a confide space. ​The Gaggia brand was founded in 1947 by Achille Gaggia in Milan, Italy. It was/is a pioneer in the field of espresso machines and is recognised for developing the modern espresso machine. Before Gaggia, the process of making espresso was a laborious and time-consuming process that required manual labour and a lot of skill. 
Gaggia's invention was the first to use a lever-operated system that compressed the coffee grounds and forced hot water through them at high pressure, resulting in a thick, rich espresso. This new machine was called the Gaggia Classic, and it was a game-changer in the world of coffee.
In the following years, Gaggia continued to innovate and improve its designs. They introduced new models, such as the Gaggia Baby and the Gaggia Professional, dedicated to serve for the home and commercial use.
Gaggia also became a well-known brand in the United States, where they opened a factory in New Jersey in the 1950s. Today, Gaggia remains a leading brand in the world of espresso machines, and its coffee machines are known for their quality, durability, and ease of use.
Why Italian Coffee Machines are still relevant 
Italian coffee machines are well-known not just for their high quality and reliability but also for their elegant design and ability to produce a rich and flavorful cup of coffee. Many Italian coffee machines are designed with sleek lines and elegant curves, making them a beautiful addition to any kitchen or office. Lastly, Italian coffee machines are renowned for their precision and consistency in brewing coffee. It is essential for coffee enthusiasts and baristas who want to validate each cup of coffee.
Types of Italian Coffee Machines 
Espresso machines use high-pressure water to extract the rich, full-bodied flavour of the coffee beans. They are available in various styles, from manual, lever-operated machines to fully automatic models. Some popular brands of Italian espresso machines include La Marzocco, Faema, and Rocket.
Another popular type of Italian coffee machine is the cappuccino machine. These machines are designed to brew cappuccinos, lattes, and other speciality coffee drinks. They are available in both manual and automatic models, and many feature built-in milk frothers. Some popular brands of Italian cappuccino machines include Gaggia and DeLonghi.
In conclusion, 
Italian coffee machines are known for their quality, durability, and style. Whether you are looking for a manual, semi-automatic, or fully automatic machine, there is an Italian coffee machine to suit your needs. Whether you are a coffee connoisseur or love a good cup of coffee, an Italian coffee machine is a perfect addition to your home or office. With its long history and rich tradition of coffee culture, Italian coffee machines are the best in the world. If you want to brew high-quality coffee, with a rich aroma and smooth taste, an Italian coffee machine is a way to go.